About Us
Thank you for your interest in MyFrameStore!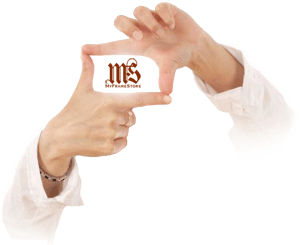 We're still a young company. Originally a local wholesaler, we received such numerous inquiries from retail clients that in 2005 we've decided to enter the World Wide Web and offer our frames to nationwide retail clientele.
This has proven to be a right step. Our revenues have been steadily growing, which allowed us to expand; our inventory almost doubled since then, and we keep adding new and new styles and sizes. In fact, we've become known online specifically for carrying odd sizes, such as 11×17, 12×18, or 13×19.
Adding new styles and sizes is much easier for us than for some other picture frame stores, as we have direct relationship with the manufacturers (due to our connection with our paternal company, the wholesaler), and thus can request production of pretty much any frame feasible. Which we continuously take advantage of.
Since we buy directly from manufacturers, avoiding third parties, we're able to offer our high quality frames to public for a fraction of their market price.
Being a branch of a huge wholesaler offers numerous other benefits. For example, our 10K square feet warehouse, storing hundreds of thousands of frames. Thus, out-of-stock issues are foreign to us. We cannot imagine what would it be like to sell online and keep having to deal with backorders.
Your frames are packaged in this warehouse, we have a special packaging department there. It is very different from others, due to the nature of product: picture frames are fragile, require extra careful handling, different packaging materials, and odd size boxes. We're passionate about our packaging department, from our new airbag machine that makes 150 bags per minute to our own, "MyFrameStore" preprinted tape that we close boxes with. Just recently we bought a new label dispenser, and our entire stuff was excited to see it in action.
Next to the warehouse is our office. You can easily reach us there if you give us a call at 718-854-9796. We don't believe in having Customer Service representatives, as no one knows our frames as we do, and we feel you deserve to speak directly to the person who knows what they're talking about.
Since we're handling all customer service issues ourselves, we do take them personally, and each of your concerns, no matter how minimal or seemingly unimportant, reaches to the highest management. For example, we remember the sizes people want to make custom, and thus, when thinking of expanding our inventory, we will consider this natural flow of public requests.
Probably due to our deep personal involvement in this business, we've achieved numerous signs of recognition from online communities, such as PowerSeller status on eBay, Featured Merchant status on Amazon, and, what we're most proud of, Forbes Award. We're proud of our success, and continue to make every effort to improve even further. This site, for instance, is freshly made, completely redesigned and restructured, to offer much more convenience and security to you, our valued customers…
If you have a particular question about our Policies, would like to read through our FAQ's, or would like to contact us directly, please don't hesitate to follow the links. We're always glad to assist you!